A family trip to St. Lucia & Our Wedding!
This post is a bit overdue. I was debating how I wanted to frame the subject matter as there is so much to say and share but I decided to highlight some of my favourite parts so, here we go!
We recently traveled to St. Lucia where my husband is from. I had never been before and it was the first time the boys would be traveling internationally and we were also getting married while we were there. St. Lucia is an Island in the Eastern Caribbean that is rich in history, lush rainforests, majestic mountains, fresh food, stunning beaches, and friendly people. We were there in January and the weather was a constant 28-32 degrees celcius, I cant imagine how hot the summer is!
It is an amazing country with so much to offer everyone. There truly is so much to see, do, eat, and experience and the scenery isn't half bad either ;).
I have decided to share and take you on a bit of a visual journey of some of my favourite parts of the trip, aside from the wedding which I have decided to keep mostly private but, I will share a few pics here. The wedding location was breathtaking and it really was the most wonderful day.
We got married on the Pigeon Island National Landmark which is a historic site and one of the most important monuments in St.Lucia's history. The ceremony was at the cliff side location and looked out onto the rough Atlantic Ocean facing Martinique.
According to the St. Lucia National Trust website, "Pigeon Island was first occupied by the Amerindians, mainly Caribs. The island was later occupied by pirates whose leader was a Norman Captain called Francois Le Clerc. He had a wooden leg and was known to the French as Jambe de Bois. The French who owned the island in 1778 declared war on the British, who retaliated by attacking them in Saint Lucia and capturing the island. The British then built a Naval Base at Gros-Islet Bay, heavily fortifying Pigeon Island. From there they were able to monitor the French fleet in Martinique which resulted in the defeat of the French at the Battle of the Saints in 1782. Pigeon Island was, therefore, a key factor in the Battles between the British and the French. In 1909 a whaling station was established at Pigeon Island. Legislation to control whaling in 1952 put an end to this operation. Pigeon Island was leased to Josset Agnes Hutchinson, an actress with the D'Oyle Carte Theatre of England in 1937. When the American established a Naval Base at Rodney Bay in 1940 she left the island. In 1947 she returned to establish a thriving yachting industry, entertaining many guests and giving the island the reputation of a paradise island. She relinquished the lease in 1970, finally retiring to England in 1976. Pigeon Island was restored by the National Trust as a landmark encompassing all aspects of the rich heritage, with emphasis on the glorious period of the late eighteenth century, when the spill-over from the American War of Independence reached the Caribbean."
You can read more about the island and the history, here.
I cannot imagine a more perfect setting, surrounded by our family and friends. We were so thankful the rain held off too!
Our reception was held at the Royal St. Lucia Resort and Spa and let me tell you we were very well taken care of there. The food was spectacular, the venue was perfect for our taste and the Steel Pan band was out of this world!
This is just a glimpse into what was a truly spectacular and very memorable day. Ashley from Ashley Eve Photography was our photographer and she is truly amazing! She is a friend and wonderful human who takes spectacular lifestyle photos focusing on "A day in the life" photoshoots. Go check out her work: http://www.ashleyevephotography.com, she is based in Toronto, Ont.
Aside from the wedding day, there were so many other things that made this trip special.
I just thought I would share a few highlights!
Gros Islet Friday Night Street Party
The Gros Islet Friday night happens every Friday and has been for decades. It is a street party right in the heart of Gros Islet Town and is very popular with locals and tourists! I went to three of them while I was there and it is a lot of fun! Very crowded but the food is good and the people are friendly. Don't forget the spice!
https://videopress.com/embed/sdEXp6rV?hd=0&autoPlay=0&permalink=0&loop=0
Pigeon Island Beach
We didn't spend a ton of time on the beaches this trip but I just loved the scenery from this beach and the boys enjoed watching all of the activity in the water, including a pirate ship!
All the beaches are truly stunning and I don't think you'd get tired of any of them because they all seem to have something different to offer. This one is located right by Sandals Grande as well as the Pigeon Island National Landmark.
Catamaran & Soufriere
We spent two separate days heading to the south of the island. The first day, we took a trip on a catamaran which was a party and I would highly recommend it!
The catamaran tour takes you to a few stops for a full day of sightseeing. The first stop was the Morne Coubaril Estate which is a working estate that grows coconuts, cocoa and manioc. It has a historical village and a beautiful garden. There is a plantation on the estate but it is a private residence. They also have a zip line tour… more on that later.
We also stopped at Toraille waterfall which was a beautiful experience. It was chilly but very refreshing and clearly gorgeous! The waterfall was definitely a very busy spot though and next time I hope to have time to see more waterfalls because St. Lucia has a lot to offer.
On the tour we stopped and ate at a restaurant venue in the mountains. The food in St. Lucia didn't disappoint and the endless fresh fruits and veggies had so much flavour. All of the food was so fresh and I could digest foods that normally give me trouble in Canada.
The view of the Pitons is spectacular! I didn't climb either one of them but my friend did and loved it! St. Lucia is a very mountainous island which helps to give it its reputation for stunning scenery.
On the second tour to the south of the island, we were on a bus so we got to see different scenery.
En-route we also stopped to get some local and fresh Cassava bread. It was delicious but my scattered brain cannot find the photos of it.
The bus tour also took us back to the Morne Coubaril Estate where we did zip lining. It was an amazing tour through the rainforest.
We also took in the sulphur spring mud baths which were awesome too, except it was a little rainy so it was a little cold. They are healing mud baths and are supposed to help detoxify and help with burns, eczema, arthritis, sore joints and more.
We finished the day eating roti a the Petit Peak restaurant. Food was good and the setting again was spectacular.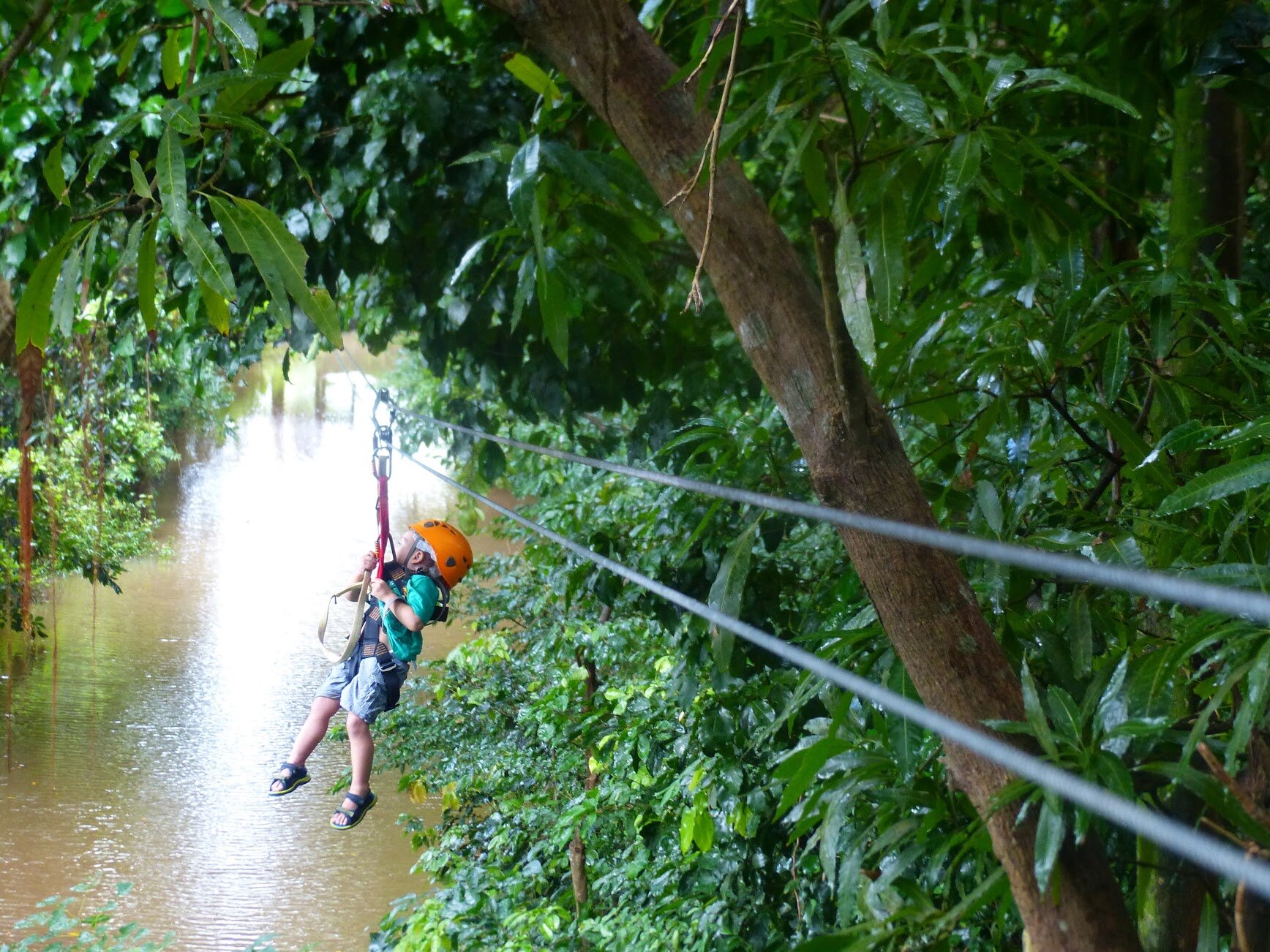 Castries Market
I really enjoyed visiting the Castries market and seeing all that the local vendors have to offer. Being the food lover that I am, it really is sensory overload because the smells and sights are plentiful and beautiful. There is so much going on in this market it was honestly a bit overwhelming but a great experience with so many fresh fruits and vegetables and local spices, etc. It really gives you a feel for the culture and an opportunity to buy and try so many local staple foods.
Fort Rodney & Pigeon Island National Park
This was probably my favourite day, going up to the top of Pigeon Island and also taking in Fort Rodney. We got married on Pigeon Island but on the wedding day, we didn't experience all it has to offer so we came back so I could check out the scenery.
As you can see, the scenery is incredible and we watched a couple storms pass by. It is a 360-degree view from up there and a must see if you are in St. Lucia — I could have stayed up there all day.
Just before we headed home, we stopped at "the Reef" also known as Sandy Beach which is by the airport in Vieux Fort on the southern part of the island. Another beautiful spot as you can see.
There was so much more we were able to see and do, this is just the highlight reel. Touring with a local made it very special and I cannot wait to return. The food, the people, the scenery, the weather, the laid-back atmosphere, it's all amazing. I would highly recommend visiting the gorgeous island of St. Lucia and, if you need a great tour guide I can help you out!